Sprawled out on a sun lounger on Seven Mile Beach, I sipped on an ice-cold rum punch as I watched the sun set, its golden rays illuminating the waves on the surface of the turquoise ocean, until it disappeared beyond the horizon. In the distance, I could hear reggae tunes blasting out from the bamboo beach bar, the gentle sound of waves lapping the shore, and the crackling of a beach fire – the smoke from which mingled with the fragrant, smoky smells wafting out of the nearby jerk pit to form an aroma that made me drool more every time I inhaled. I walked down to the water's edge and dipped my bare feet into the crystal-clear shores, allowing the waves to gently wash around me.
When Dealchecker asked me to write about my favourite places to visit in Jamaica, I immediately began daydreaming about the three months I spent exploring this colourful Caribbean island back in 2014.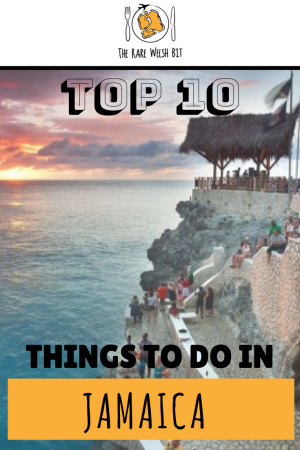 The UK-based travel comparison website has produced a visual guide to Jamaica (pictured at the bottom of this post) containing useful travel tips, year-round weather forecasts and recommendations on the best places to visit in Jamaica, and what to do during your stay.
You may think Jamaica is an expensive destination for a getaway, but if you shop around for the best prices for your holiday to Jamaica, you might be surprised by how affordable it could be.
My top 10 places to visit in Jamaica
I managed to tick off a few of the attractions listed in Dealchecker's new guide when I was in Jamaica, as well as visit a few amazing destinations which aren't listed on the infographic. In no particular order, here are my top ten places to visit in Jamaica:
Dunn's River Falls – Ocho Rios
At 180-feet high, the 600-ft long Dunn's River Falls are one of the most beautiful waterfalls I've ever seen. Standing at the base of the falls, looking at up this magnificent natural wonder as I listened to the water crashing down onto the rocks, was an exhilarating experience – especially knowing I was about to climb to the top of the falls myself!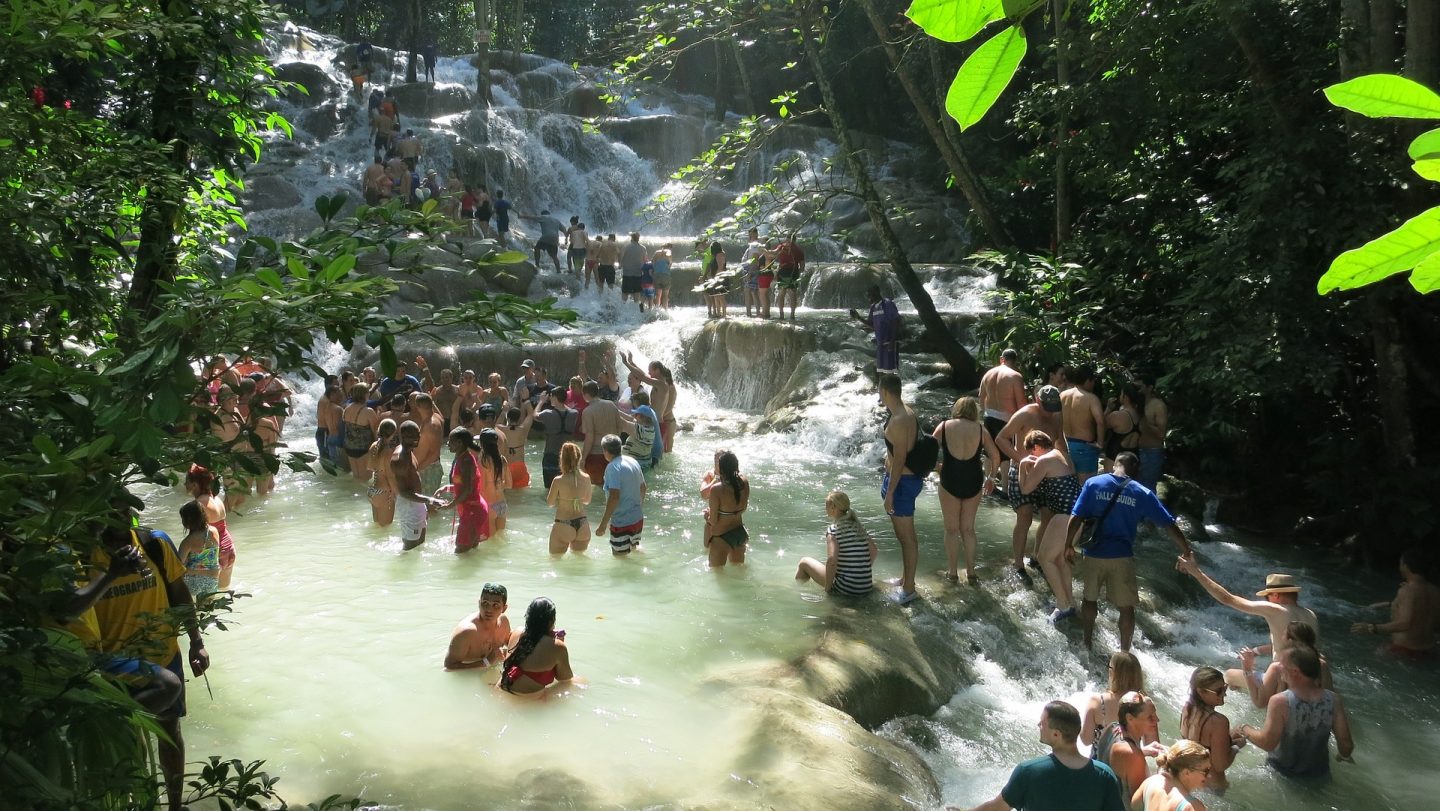 Holding hands with the other tourists in our group, we made it to the top within around 90 minutes, led by experienced guides who knew the safest routes to take – not to mention the best selfie spots, if you're looking to take some snaps for your online photobook along the way!
Tickets are currently priced at US $23 for adults, and US $15 for children (aged 4-12).
I regret not spending more time in Ocho Rios (or Ochi, as it's affectionately known by locals), but it's a great excuse to return and explore more of the island some day. Check out this local's guide to the best things to do in Ocho Rios to see why I'm so keen to go back.
Rick's Café – Negril
Perched on the West End Cliffs in Negril, Jamaica, Rick's Café has been named one of the top 10 bars in the world. However, it's not the rum punch or the Red Stripe that draws tourists to this bar, but the cliff-diving potential. With drops of up to 35ft, this isn't for the faint-hearted!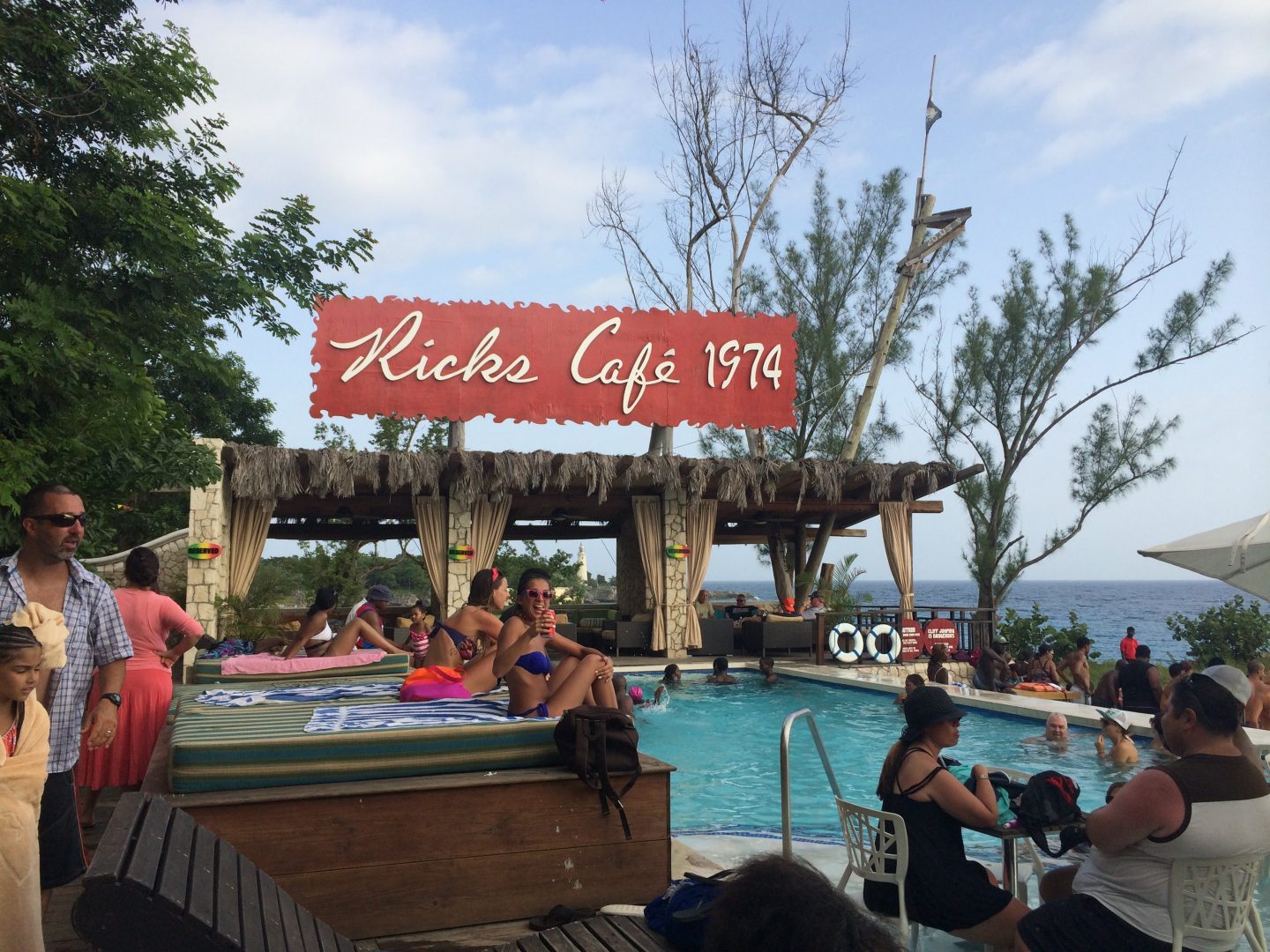 If you don't fancy making the jump, make a splash in the outdoor swimming pool, sip on a cocktail or tuck in to traditional Jamaican cuisine as you watch the sun set to the sound of live reggae music.
There's no entry fee for Rick's Cafe, but drinks and food can be purchased from the bar and restaurant, and it's good practice to leave a tip for the local divers if you see them perform any impressive stunts.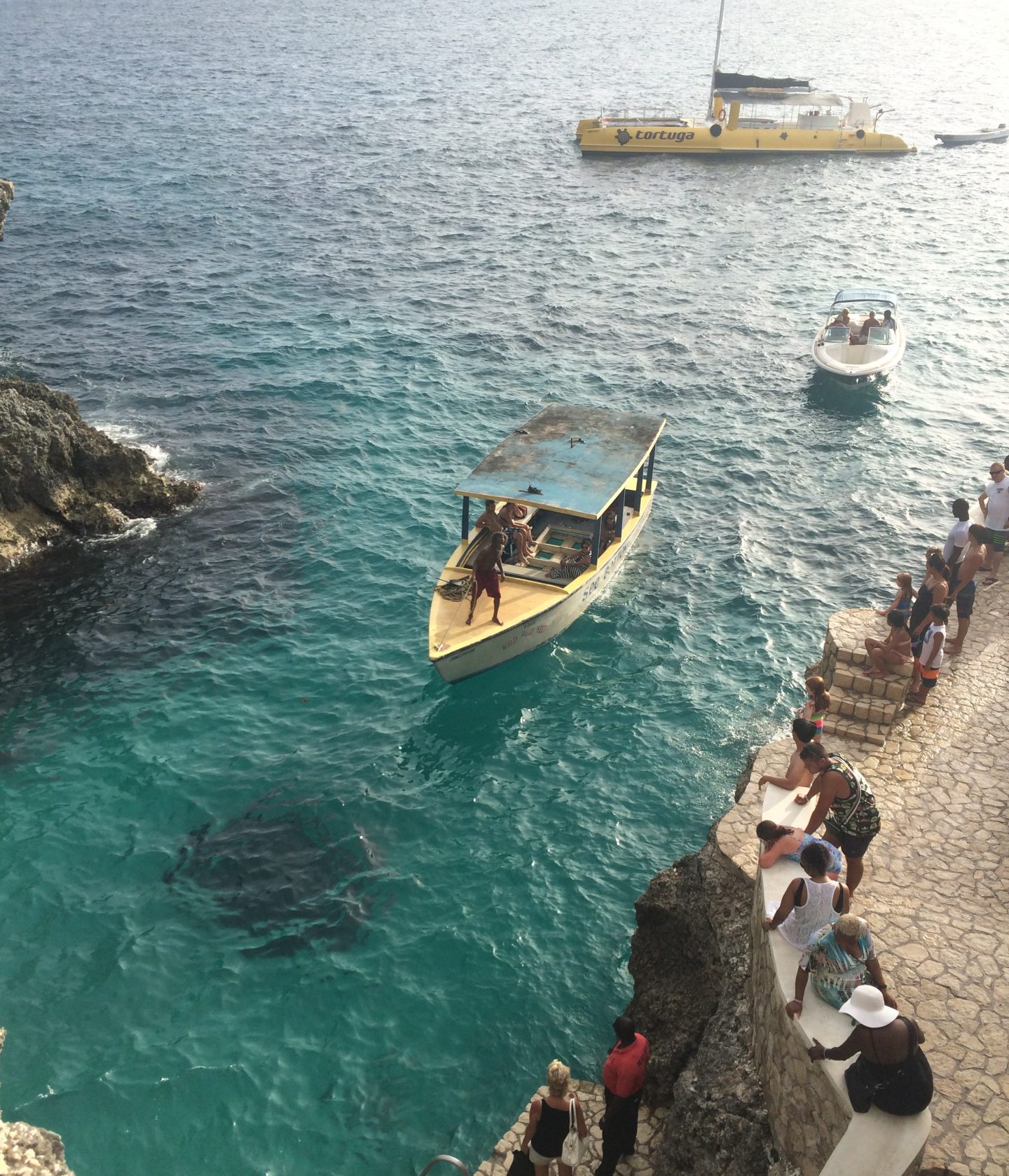 Rose Hall – Montego Bay
Based on a former plantation, Rose Hall is an 18th century Georgian mansion that once belonged to the 'White Witch of Rose Hall', Annee Palmer. According to legend, Annee murdered all three of her husbands in the house and had love affairs with her slaves, who she also tortured. She met her end when she was killed by one of her slaves and buried in a tomb in the garden.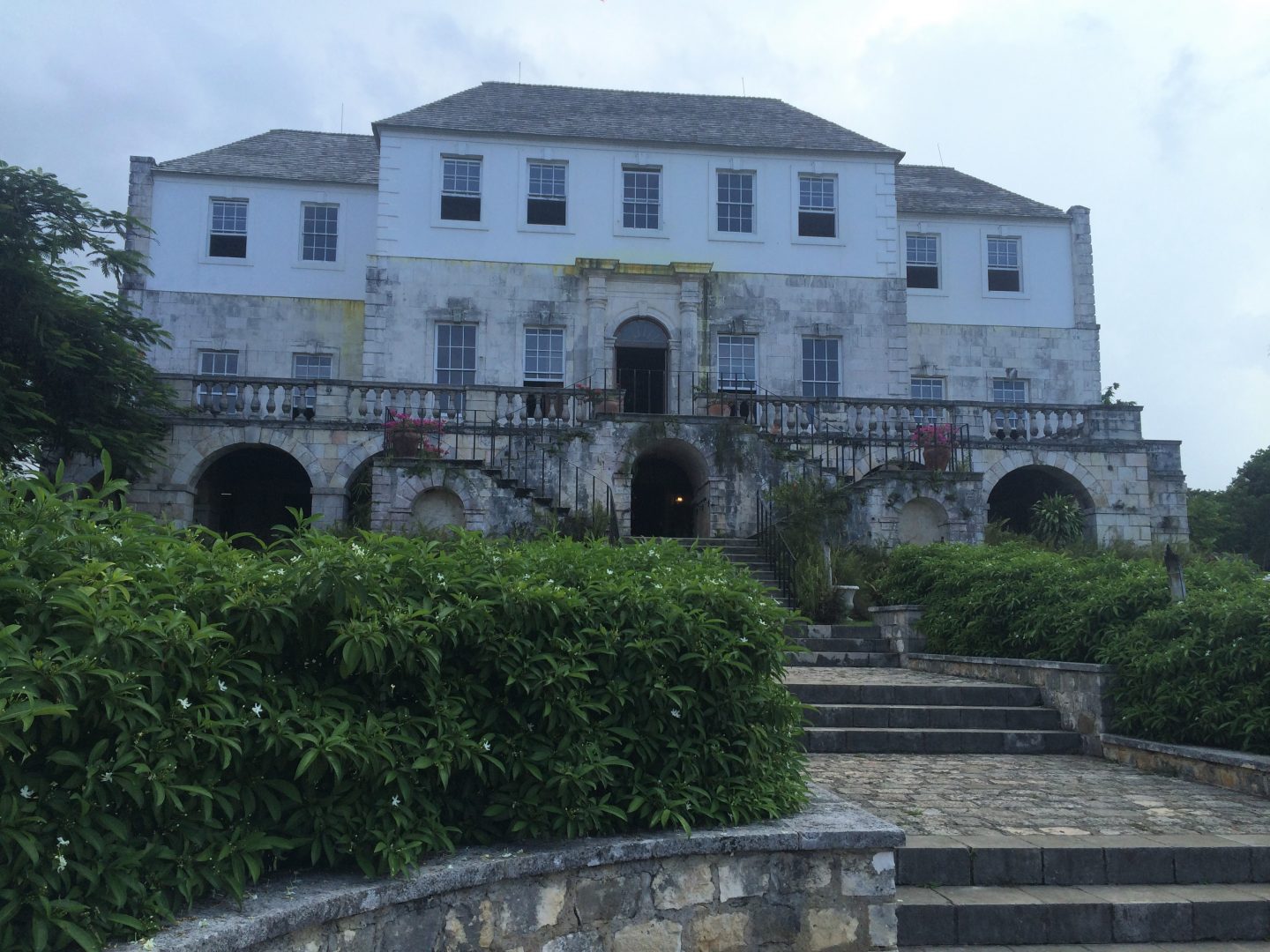 Although the story of Annee Palmer is only legend, many visitors have reported seeing spooky apparitions and experiencing unusual sensations when visiting Rose Hall. Personally, I didn't find it too eerie, but I recommend visiting during the evening – I can imagine the mansion looks pretty creepy at night-time! Either way, this has to be one of the most unusual places to visit in Jamaica.
It currently costs US $20 per person for a guided tour of Rose Hall.
Glistening Waters Luminous Lagoon – Trelawny
It's clear to see where Luminous Lagoon at Glistening Waters Restaurant and Marina gets its name from. Believed to be one of only a few locations in the world that are natural phenomena of phosphorescent water, the Luminous Lagoon is almost magical to look at.
When freshwater from the Martha Brae River meets the salty Caribbean ocean, phosphorus spreads throughout the lagoon. When disturbed by motion, the phosphorus particles are illuminated in an electric blue colour, making the water look as though it is glowing and twinkling. The phenomena is very difficult to capture on photo or video, but the clip below will give you some idea of what I mean.
Tour are priced at $25 for adults and $12.50 for children aged under 12.
Seven Mile Beach – Negril

With a seemingly never-ending stretch of soft white sand, palm-tree lined shores and clear turquoise waters, it's no wonder that Seven Mile Beach is listed in Dealchecker's top places to visit in Jamaica.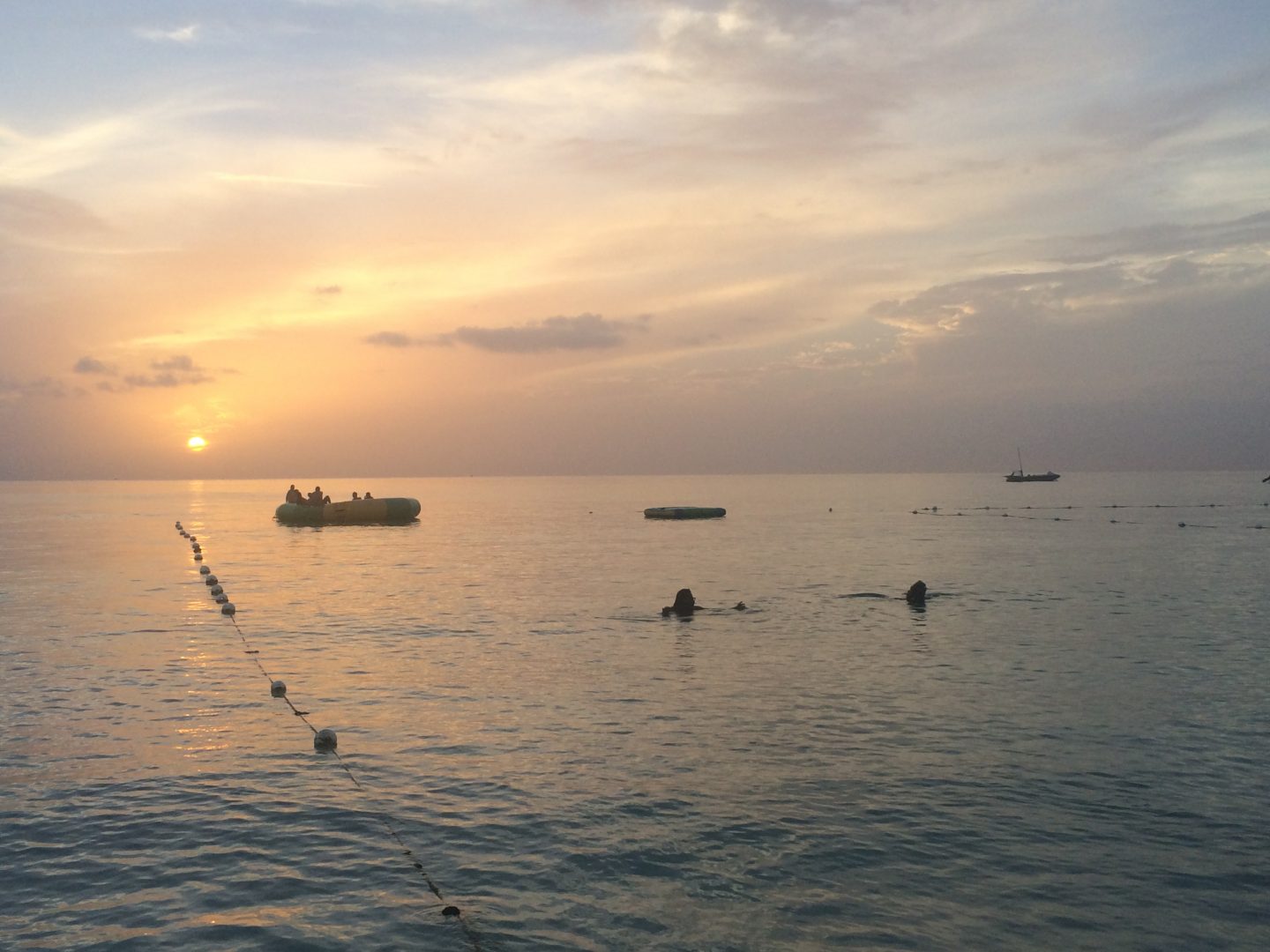 There are countless numbers of hotels, bars, clubs and restaurants dotted along the beachfront, including Margaritaville; a popular Caribbean bar chain modelled on the famous Jimmy Buffet song, 'It's Five O'Clock Somewhere'. With inflatable trampolines and water slides, Margaritaville is somewhere you can go to really unleash your inner child. There's no entrance fee, but the drinks at Margaritaville are somewhat more expensive than they are elsewhere in Jamaica. You'll also have to pay to rent sun-loungers or hammocks – dependent on how long you'll be staying in Jamaica, it may even pay to buy a hammock.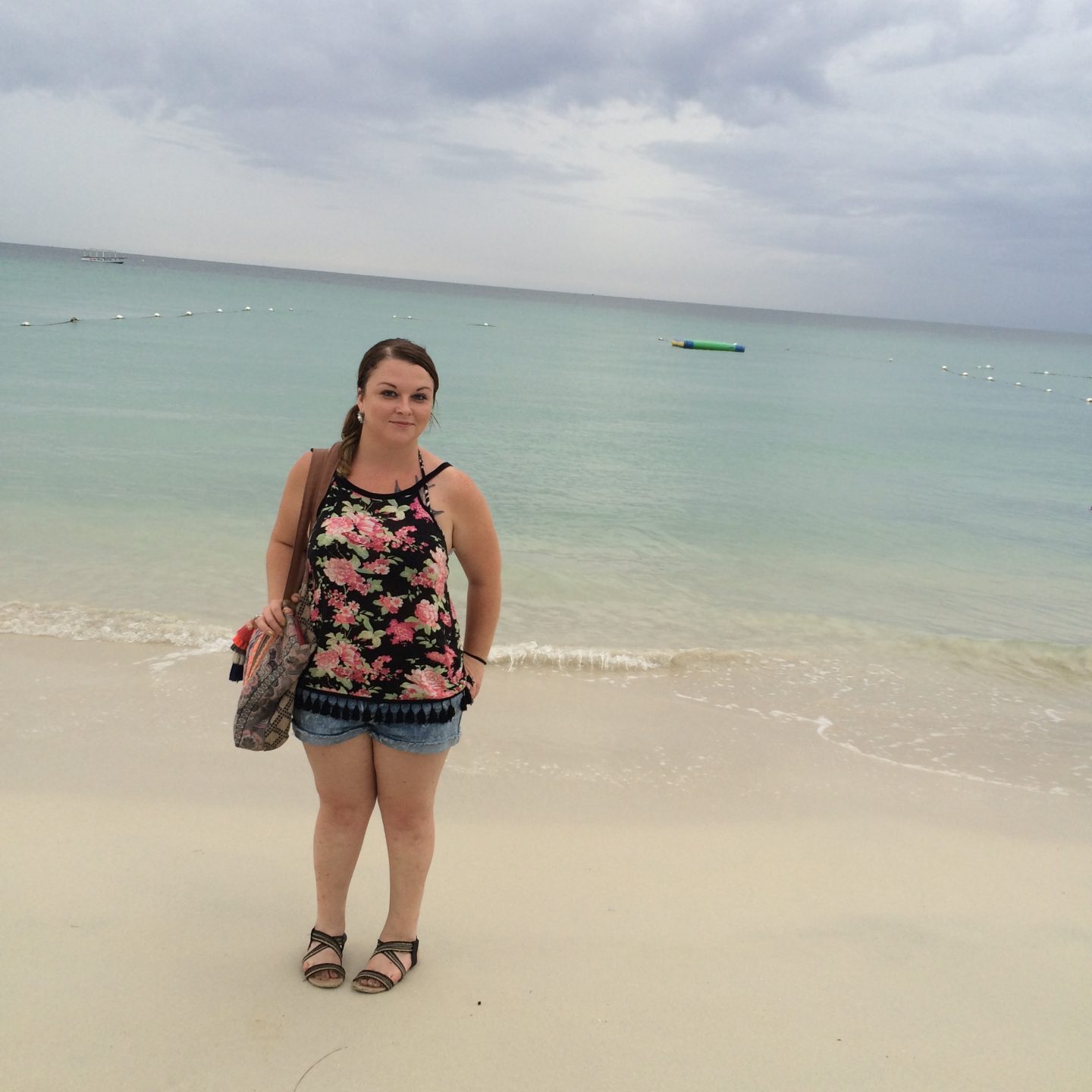 YS Falls – St Elizabeth
One of the most popular places to visit in Jamaica, YS Falls is located on a working cattle and horse farm on the less explored South Coast. Boasting picturesque gardens, a stunning seven-tier cascade of waterfalls, a natural mineral pool and an exhilarating treetop canopy ride, YS Falls is perfect for both thrill-seekers and those craving tranquillity.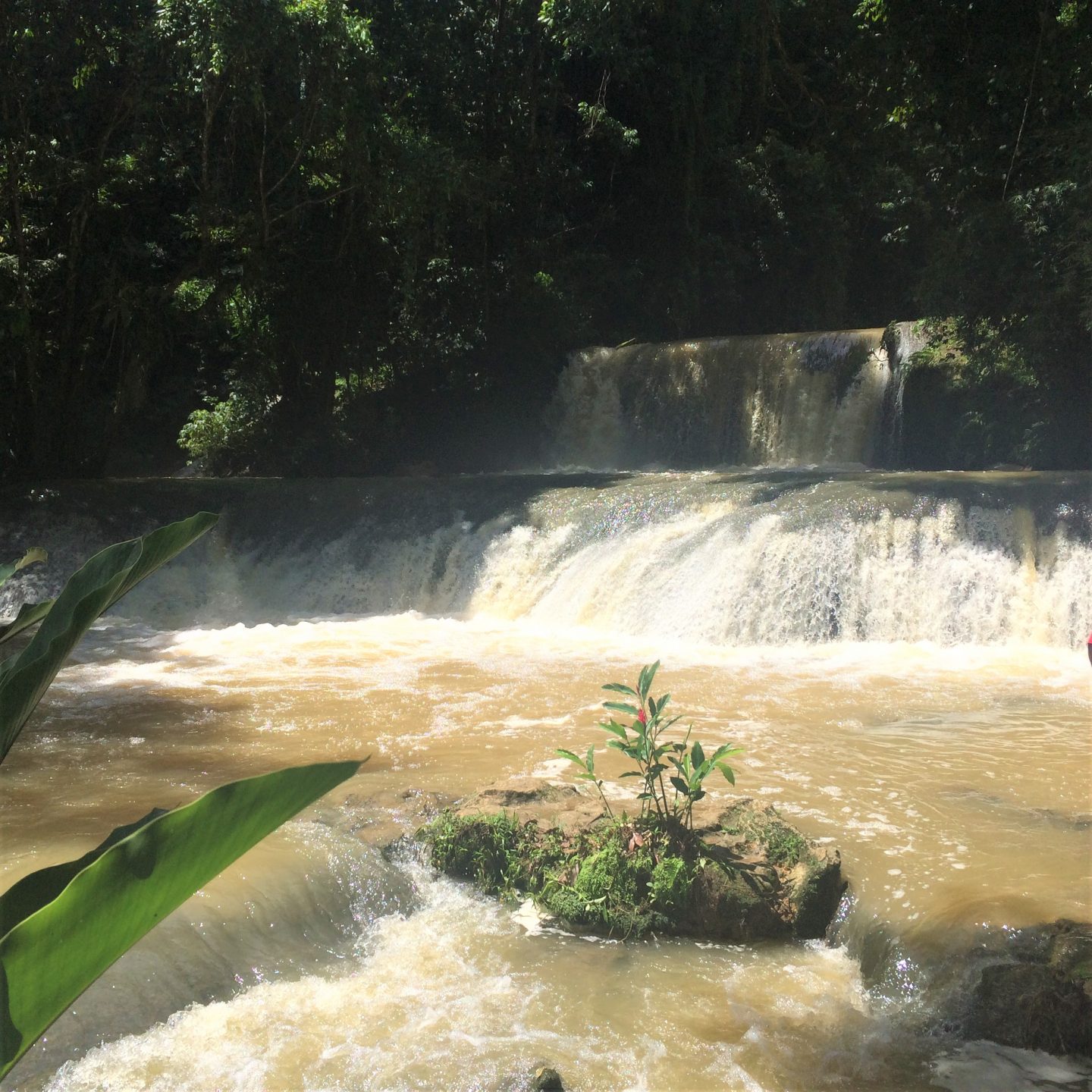 Climb the steps alongside the waterfall and, if you're brave, take on a rope swing directly into the path of the falls!
To climb the waterfalls, it costs $19 for adults and $10 for a child aged between 3-15-years-old.
Black River Safari – St Elizabeth
You'd be mad to miss out on the Black River Safari while visiting YS Falls; in fact, many tours include visits to both attractions in one day.
Take a boat ride along the Black River, admiring the scenery and wildlife as you sail past the mangrove trees. If you're lucky, you may even spot a crocodile. We ended up getting a little too close for comfort to the croc in the below pic – can you spot him hiding?
Tour costs vary between operators, but expect to pay around $25 per person for a Black River Safari tour.
Floyd's Pelican Bar – St Elizabeth
Another attraction worth visiting on the Jamaican South Coast is Floyd's Pelican Bar. Voted the best bar in the world, Floyd's Pelican Bar is named after the pelicans which gather nearby. The bar is crafted entirely from driftwood and is stilted on a sandbar around ¾ miles out to sea, in Parrottee Bay.
While there's no fee to enter Pelican Bar, to reach it you need to take a 15-minute boat ride from Treasure Beach, which will set you back around $10 each way. Carve your name into the wood, play dominoes with the locals, drink Red Stripe beer and indulge in freshly caught, cooked-to-order fried fish.
Of all places to visit in Jamaica, Pelican Bar has to be one of my all-time favourites!
Bob Marley Mausoleum – Nine Mile, St. Ann's
No visit to Jamaica would be complete without a trip to Bob Marley Mausoleum on Nine Mile, St. Ann's Parish. The birth and resting place of Jamaica's biggest reggae legend, the Bob Marley Mausoleum is today managed by members of Marley's own family.
Enjoy a tour of the property with one of the Rastafarian guides, seeing Bob's bedroom and his meditation rock, before entering the mausoleum in which his body now rests.
Admission costs $25 for adults, and $12 for children aged between 4-12.
Chukka Caribbean Adventures – Sandy Bay, Hanover
With branches in Hanover, Ocho Rios, Westmoreland, St. Ann's, St. James and Trelawny, Chukka is a trusted tour operator offering adventurous outdoors activities. At Sandy Bay in Hanover, you can drive a buggy across the sand dunes or ride through the Caribbean Sea on horseback. For full activity listings and costs, please visit Chukka Caribbean Adventures website.
For me, though, the highlight of visiting Chukka Sandy Bay was getting to play on these Instagrammable ocean swings.
So, you've heard about my favourite places to visit in Jamaica – now, read up on the best places to stay in Jamaica and take a look at Dealchecker's guide to the best attractions and destinations in Jamaica, including advice on when to travel, and handy tips to make the most of your stay.

If you enjoyed finding out about my favourite places to visit in Jamaica, take a look at my blog posts about some of my favourite places to eat in Jamaica – and don't forget to pin this post (below) for future reference!
This post is in collaboration with Dealchecker.